Marinated green asparagus
Green asparagus is grown all around the world and harvested by hand during the spring. The sprout is picked from the asparagus plant that grows underground. This plant boasts a productive life span of 15 to 20 years. Although green asparagus is the most commonly known, there are over twenty varieties of this mineral-rich vegetable. Also known as the king of antioxidants, asparagus can be enjoyed on its own, as an accompaniment or in a salad. What's more, it contains very few calories and is rich in fiber.
---
Ingredients:
Asparagus, water, vinegar, sugar, salt, mustard seeds, black pepper, dehydrated red chili pepper, dehydrated garlic.
NUTRITION FACTS +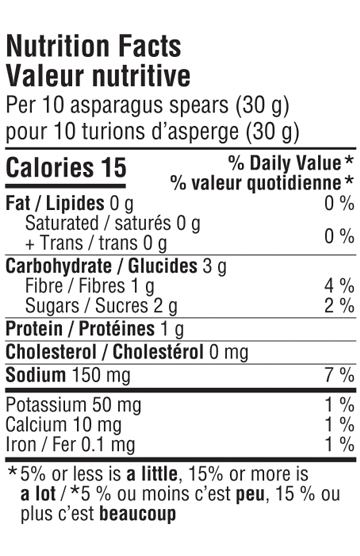 X